Charging badges or cards are among the essential accessories to have when switching to an electric car. Even for those who essentially charge at home, the badges will still be able to help you out. So, which one(s) to choose?
While some public charging stations have bank card payment systems, this solution is quite rare in France. More generally, motorists traveling in electric vehicle must have in their possession to start charging: either the operator's application on their smartphone, or a compatible RFID badge. Charging badges can be classified into several categories: those restricted to a type of local network (or a terminal operator), more universal badges or manufacturers' charging cards.
There are many charging networks and the prices applied vary greatly depending on the payment solution envisaged. We are going to try to give you some keys to not being caught off guard when you connect to charging stations in France, as in neighboring countries.
How to choose your recharge card among the different solutions?
Universal recharge cards or badges are, in our opinion, the Swiss Army knives to systematically slip into your wallet (or your car). The more charging cards cover different charging station networks, the more peace of mind you'll have when it comes to hitting the road, without having planned the trip down to the smallest detail.
You can choose only one mobility operator badge, but some users collect several. Why ? Quite simply because all recharge cards do not always cover all existing networks, that there may be a one-off breakdown or incompatibility, and above all that recharge is not always negotiated at the same price. The most far-sighted and the most economical have therefore got into the habit of traveling with several recharge cards and/or badges.
What are the main badges to know?
Chargemap Pass
Le badge Chargemap is certainly the best known and the most widespread in France. It will cost you €19.90 upon purchase, but without a subscription thereafter. It works with a large number of networks in France, however it also extends abroad (more than 270,000 terminals). For us, it is essential for recharging. However, the charging rates are not always the most advantageous compared to other badges.
Freshmile
For €4.99 of acquisition, the pass Freshmile gives you access to a network of more than 150,000 charging points with fairly attractive prices on the terminals of the network of the same name, but not systematically on all compatible terminals.
Shell Recharge / New Motion
The carte Shell Recharge covers 275,000 charging stations internationally. The card is free, however the operator charges a fixed commission of €0.35 each time a charge is launched (up to a limit of €7 per month).
KiwhiPass
Le KiwhiPass is broken down into two commercial formulas: either a card at €19 then €0.70 per charging session, or a subscription of €24/year and charging sessions at €0.35. The card claims to cover a network of 43,000 charging points.
Plugsurfing
The operator Plugsurfing offers a card at €9.95. The operator then charges a service fee of up to 10%, in addition to the charging session. The network covered by Plugsurfing is mainly developed among our German neighbors. This is a solution used by several car manufacturers who offer their own charging card.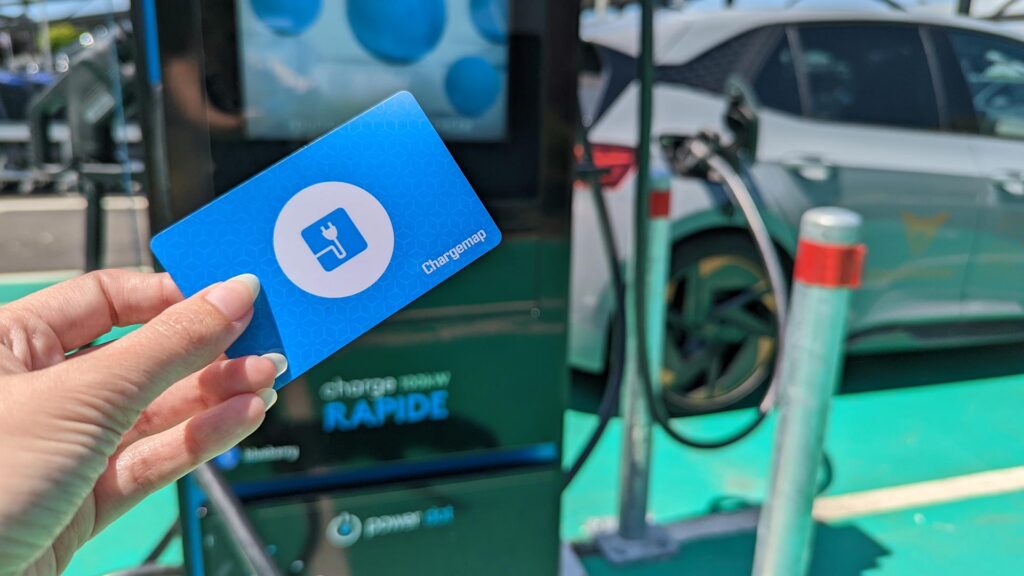 There are many other terminal operators and mobility operators who can offer cards compatible with many networks in France and abroad. We have cited the best known here, but depending on your location and the type of terminals you usually use, other maps may be relevant. If you only want to opt for one card, we recommend the Chargemap Passit is the one that follows us in our travels.
Are the manufacturers' recharge cards interesting?
The various manufacturers of electric vehicles have followed suit and almost all offer a charging card in the name of their brand. It's a way to make it easier to get started with a first electric vehicle and to build customer loyalty.
The first year following the purchase of an electric vehicle, the manufacturer's charging card is generally free. With some manufacturers, the period offered may be longer, such as with Porsche, which offers the service free of charge for 3 years. After this period, several manufacturers (BMW, Kia, Hyundai, Volkswagen, etc.) offer monthly subscription offers with several levels of service, for prices between €5 and €18/month.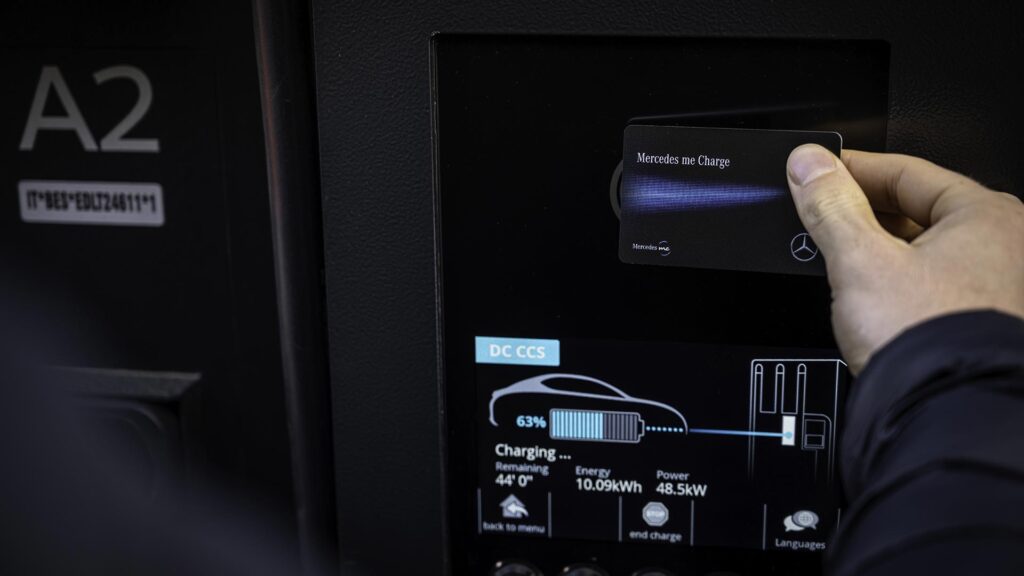 Is there any interest in going through these recharge cards offered by the manufacturers? It all depends on your use and the formula associated with the card. If you frequently make long journeys using Ionity stations, the brands that are part of the Ionity consortium offers an advantageous rate for this charge. It can be worth it, despite the monthly subscription around 13 to 15 €/month (following the free period). If, however, you only have a very occasional need for this type of charging at public terminals, do the math before you commit.
How much does an electric car charge card cost?
As you will have understood, there are almost as many possible prices as there are solutions offered. To retain the essential, we could classify the offers according to three categories:
If the recharge card is free, the operator generally makes up for the commissions or fees associated with each recharge you make on partner networks.
If the card is linked to a subscription formula (for example: card from certain manufacturers), you must have preferential rates for recharging on certain networks, otherwise the offer is of only limited interest compared to to other solutions.
If the card is chargeable, the commissions on your charging sessions will be lower, but the networks offer different negotiated rates to the different mobility operators.
It is therefore the frequency of use of these top-up cards that should define the formula(s) best suited to your top-up needs.
The Chargeprice application to avoid unpleasant surprises
Unlike service stations, the charging rate is only rarely indicated on the terminal and there may be surprises. This is still a specificity of the electric vehicle compared to thermal vehicles, but the same charging station can see its price vary according to the badge used (excluding any additional operator commission).
The price difference is sometimes minimal, however in some cases, the prices charged go from simple to triple without really knowing the justification for such a difference. So, before you connect to a terminal that you do not know, a small check can be useful.
To check the rate you will be charged, you can use the application of your usual recharge card. If you are using multiple cards to get the best possible rate, then we recommend downloading the app or checking the site Chargeprice.
For each terminal, Chargeprice lists the estimated prices according to the badges. Even if the price list and the actual amount of the charge are not exhaustive and contractual, this gives a good indication. You can also freely contribute to improving the information disseminated on the application by reporting errors. This is a tip to know for those looking to save money when recharging their electric car.
Pay attention to the pricing conditions of certain terminals
It is better to take the time to read the small lines on the pricing of the load. For electric vehicles, several elements can influence the price of a charge:
Charging at public terminals can look like a hostile jungle. It is better to be well prepared to avoid being surprised. The generalization of "plug & charge" (connect & charge), as drivers of Tesla to superchargers, will certainly help to facilitate and standardize the issue of recharging. In the meantime, it's up to you to choose the charging badges that suit your use.