Campworks, an American company, unveils a caravan capable of storing solar energy and powering an electric car as well as various electrical objects.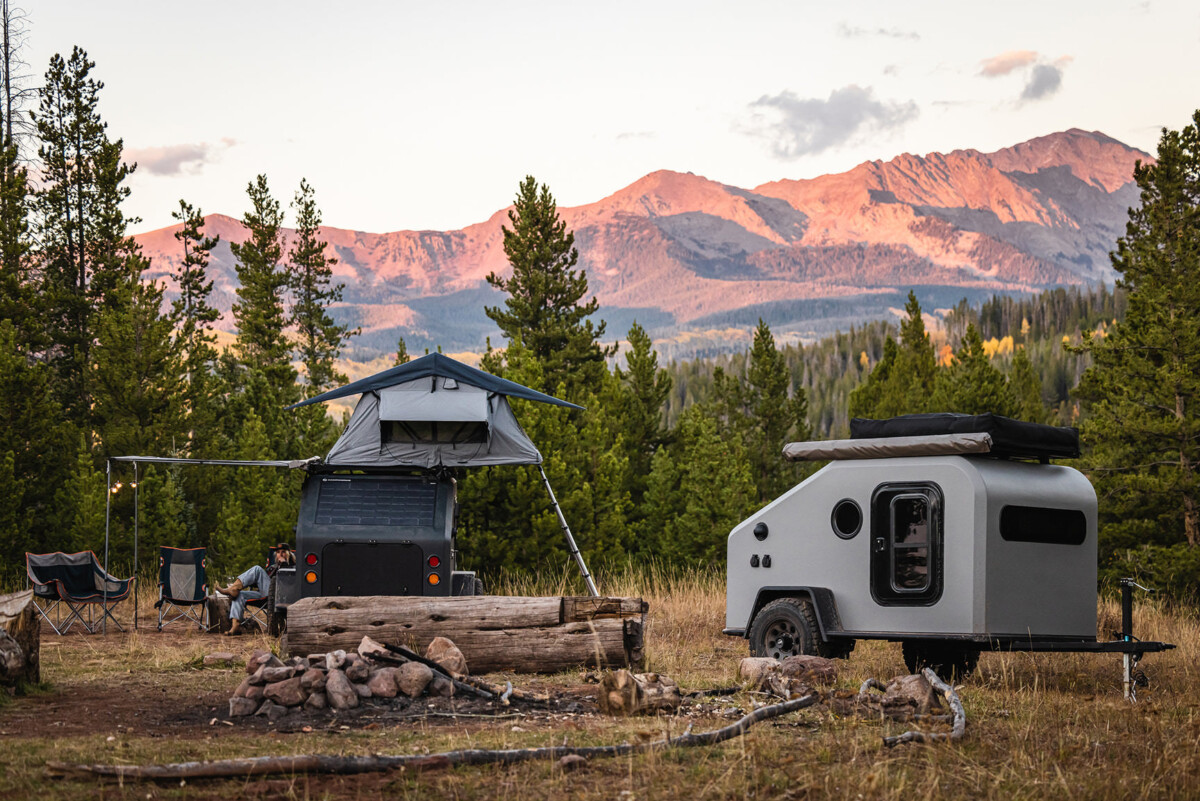 Today, camping and nature trips are enjoying growing success, as are recreational vehicles and other converted vans. No wonder manufacturers are surfing on this trend, like Porsche which has just unveiled a roof tent for all models in its range. But if camping is still seen as an activity requiring giving up on comfort, this is in fact less and less the case today, while many brands offer innovative solutions.
A solar caravan
This is particularly the case of Campworks, a young company founded in 2017 by Thomas Hoffman which has just unveiled its first product called NS-1, a year after rolling its first prototypes. It is then a small caravan of 3.80 meters offering all the necessary comfort to campers. As detailed company websitethis one is designed to ride on all terrains, while it is equipped with 31-inch wheels, off-road tires and a ground clearance of 48 cm. But what interests us here is above all that this caravan is equipped with a solar panel with a power of 240 watts, allowing it to supply a battery with a capacity of 5.55 kWh.
The system is then able to deliver a power of 5 kW, thus making it possible to supply all the on-board equipment, or even an electric car to help out. A system that reminds us bidirectional charging offered by some manufacturers.
The Campworks site explains that by using 3,749 Wh, which is equivalent to normal use of the various equipment for 24 hours, there is still 32% of the total battery capacity left. But be careful, because the caravan only works with solar energy, the performances then depend on the rate of sunshine and are not identical everywhere. According to the brand, one hour of sunlight would store enough energy to watch Netflix for 34 hours straight.
All the necessary comfort
Designed for getting away in the wild, this Campworks NS-1 is equipped with a host of equipment. Among them, a WeBoost Drive Reach allowing to amplify the telephone network, but also the possibility of installing the Starlink system developed by the firm of Elon Musk SpaceX.
The caravan is also equipped with air conditioning and a heat pump as well as an induction hob. All cooking utensils are included, as well as a picnic service for eight people. Roof bars are also provided, to install a tent, skis or kayaks. Plenty of storage is also available in the cupboards and under the bed.
Orders are already open, subject to a deposit of 1,000 dollars (approximately 984 euros) refundable. The starting price is displayed from 65,000 dollars, which is equivalent to approximately 64,000 euros excluding taxes. Production will begin next November, while the first deliveries will begin next spring.. For now, we do not yet know if this solar caravan will be offered in Europe.
---
To follow us, we invite you to download our Android and iOS app. You can read our articles, files, and watch our latest YouTube videos.