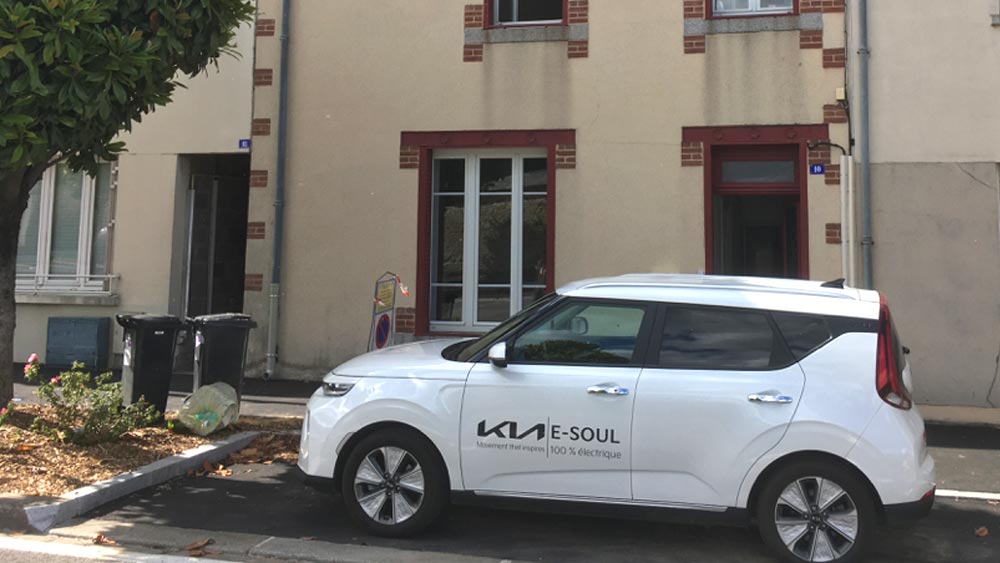 Few years ago, I had taken on the role of a press bearer in order to assess the interest of using an electric car to pass early in the morning and drop off their daily newspaper to subscribers. Today starts another life-size test by changing the place of life.
Municipality of 4,000 inhabitants
Children who have grown up and left home, the need to give up my previous accommodation following a death, the need to get closer to reporting locations, the desire to test a life by moderating my impact on environment, and here I am in a charming house of a hundred years which integrates a perimeter classified by the buildings of France.
The housing situation is ideal. Already with a weekly market that starts at 200 m. The bank, the post office, the insurer, 3 bakeries, the butcher, the press deposit, and many other shops within a radius of 400 m. And, above all, the building is located between 2 supermarkets located less than a kilometer away. In short, all everyday life can be managed on foot.
Before residing in the heart of this town of just over 4,000 inhabitants, I lived in the countryside. It was therefore necessary to take the car to get the bread for example, even if I took enough for 7 to 10 days.
House without land
In the old farm where I lived before, I could have parked a good twenty cars. Carrying out a refill in the shelter and without risk was absolutely not a problem. A setting totally opposite to my new situation. My house is semi-detached on 3 sides. Yes, yes, it exists! There is no land or garage. In front is one of the main streets.
However, I found a box about 700 m away in a recent residence. It is part of a lot including an apartment and 2 closed parking spaces. One is rented with this accommodation to a couple. This allowed me to recover the 2nd box, but without hope of being able to recharge my EV there.
However, I made the choice to establish myself permanently in these conditions. I have been driving an electric car since 2007, 15 years now. Will it find its place in this new life, or will I have to go back to a thermal model in order to make my business trips, in particular for reporting purposes, and occasional private trips?
Suspended from the bollard on the road
In my imperatives that guided my implementation, there was the presence of a garage attached to the house with at least one household outlet. I have always recharged my electric cars this way, without a wallbox or specific reinforced connector. But the fact of being able to manage everything on foot was the strongest. Likewise, I was thinking of refusing a house with a thermal boiler. However, it is a gas model that heats the house.
The aerothermal was not possible with the proximity of the neighbors. The boiler is fortunately new and of the latest generation. But there, it is off, by choice. We'll see how long the 56-year-old will endure taking cold showers in the morning. And for the rest, the kettle on the gas stove is fine. In 2 or 3 minutes I have 1.5 liters of hot water for the dishes.
What about charging the Kia Soul EV? There is the terminal on the road, erected in one of the main car parks. It is of course inaccessible on the morning of the market and during special events.
An ideal charging network?
Question recharge, the energy union of Ille-et-Vilaine, in Brittany, does things rather well. Its network is associated with a contract with Enercoop. I had also chosen this cooperative as an electricity supplier when I started out, when I switched to electromobility. At the time, I didn't want to associate my 1996 Renault Clio with a nickel-cadmium battery with nuclear power.
Today, with the complexity of the energy markets strained by repeated crises (Covid-19, war in Ukraine, suspension of Nord Stream 2, etc.), Enercoop, of which I am still a member, had to resolve to use to ARENH (regulated access to historical nuclear electricity) for 3 years starting next year. But this is another story.
The prices displayed by the West Charge network on which the Béa terminals of the SDE35 depend are compatible with frequent use by local electric motorists subscribers: 0.22 euro per kilowatt hour in AC, 0.33 euro for 50 kW DC chargers, and 0.55 euro for high power.
A weak choice?
The big defect of the 22 kW AC terminals in this territory is that the power is divided by 2 if 2 electric cars are recharged simultaneously. Imagine a Renault Zoé and a Kia e-Soul for example. Only the first would exploit the power of the terminal to the maximum. The second would cap that of the on-board charger, that is to say at best barely 7 kW. But if the 2 are connected at the same time, these figures drop at best to 11 and 3.5 kW respectively.
Difficult in this case to predict the duration of the recharge which can therefore go from 7 to more than 14 hours with a pack already well emptied on the Korean. To date, I have not been confronted with this situation very often. In addition, with a 64 kWh battery, it is relatively easy to maintain a sufficient level of energy to make round trips of 100-150 km.
Few other terminals in the town: 1 hour free on a supermarket car park, and a wallbox on that of a store specializing in DIY. On the other hand, other Béa terminals are accessible in surrounding municipalities, for troubleshooting. And there are 3 fast chargers within 20 km. A priori, and time that there will not be many more electromobilists in my case locally, access to charging should be relatively easy.
And after ?
If this road terminal were to be unavailable for a long time, things could quickly become problematic. First encouraging point, it has had 2 Type 2 connectors for a few weeks. The Type 3 connector has been replaced, in accordance with an operation announced and still in progress in the department in the present month of July.
I will publish in 12 months a small report after a year in the shoes of an electromobilist who does not have a personal means of recharging his electric car. At the limit, if there was an EV car-sharing service in this municipality with models with sufficient autonomy (battery of 45-50 kWh at least), I would no longer need to have my own vehicle. .
The future of electric mobility
This experience is to be compared to the words of the mayor of Trilport, in Seine-et-Marne, who announced to the TF1 newscast a few days ago that he had installed a terminal in the heart of his town to boost local trade. What about resident electromobilists who do not have a socket available at home? Will this terminal be prohibited to them on the pretext that their car would mobilize the site for hours to the detriment of the hairdresser and the baker nearby?
Should a charging station be set up by a community to promote electric mobility or to promote local commerce? If it were to be both, then several models would be needed, including a 50 kW minimum.
With the end of petrol and diesel cars, more and more motorists, when they go electric, will be in the same situation that I know now. Charging networks will have to be able to serve them. To meditate !