It only took 18 minutes for Citroën to sell the 50 copies of the Ami Buggy online, although they were billed at €9,790. A plebiscite that will surely give the brand some ideas for other limited series.
To acquire one of 50 copies of the Ami Buggy special edition of Citroënit was better to be at noon sharp in front of your screen and be prepared to jump on the Citroën Ami website. Barely 18 minutes passed and it was already too late. All stock of the My Ami Buggy limited edition was already sold out.
It must be said that this version was created to satisfy the high demand, following the presentation of the concept. It was foreseeable that the 50 copies, put on sale this June 21 at 12 p.m., would disappear very quickly. A success that seems to inspire Citroën to imagine other limited versions of its electric mobility device, the brand indicates in his press release : « The dazzling success of this limited series of 50 My Ami Buggy is a strong signal of public interest in exclusive versions of this small mobility object. »
An ultra-customizable gear that lends itself to limited editions
With this quirky proposal, from a variation of Citroën Ami a bit typical for getting out of city centers and exporting to the countryside or the beach, the brand has hit the mark. A canvas roof, doors removed, new rims, a new body color and a few accessories have managed to thrill customers, despite a higher price.
The limited series has always been a way for car manufacturers to create enthusiasm on models in decline. Peugeot, Citroën et Fiatto stay within the brands of groupe Stellantis, have extensive experience in this area. They have often relaunched their city cars in limited editions, in partnership with popular brands.
The case of Citroën Ami is a little different, because this special edition goes a little further than just cosmetically wrapping the car around a brand or an event. The model is not losing momentum either, since it is attracting more and more followers of this electric mobility accessible without a license. The model even open to other foreign markets with the same enthusiasm from the public. The latest sales figures communicated by the brand indicate that Citroën Ami has already attracted 21,000 customers in just over 2 years.
Citroën has developed its model by focusing on individual customization, based on small accessories and stickers, which everyone can put on and change according to their desires. Since the public seems very receptive, it is only a short step for Citroën to offer more extensive customizations integrated into its catalog. We think in particular that the removable canvas roof could give other very beach-oriented versions of the model, for example.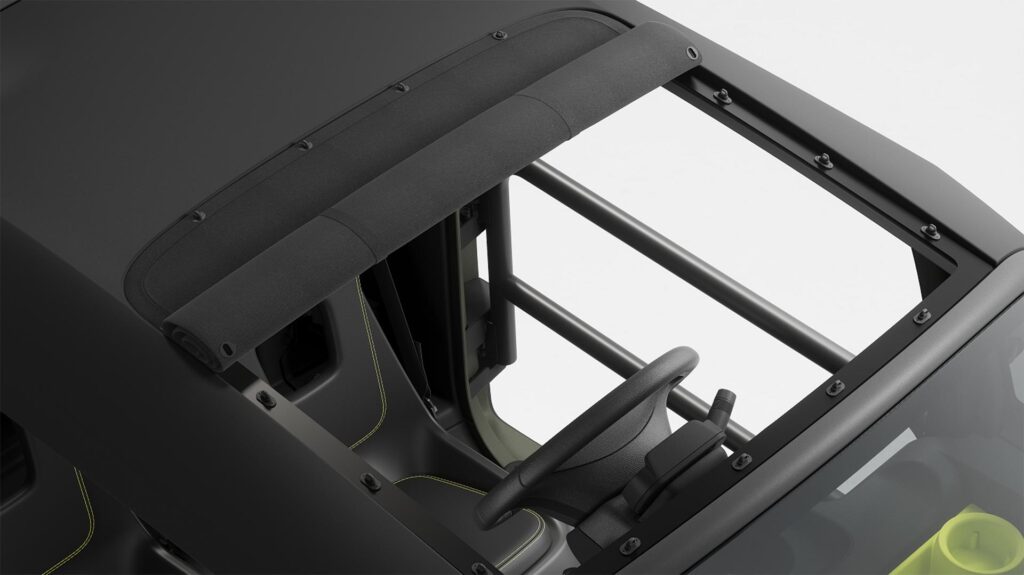 A mobility object that sells like a fashionable smartphone
According to the manufacturer, 1,800 customers showed their interest in this vehicle by registering on the AMI Buggy page. So there are 50 lucky people who managed to grab exclusivity, and a lot of disappointed ones.
It must be said that the online sales site suffered some technical difficulties in the face of the influx of visitors. Some will never have succeeded in connecting to it for the first few minutes, while on his side a customer placed his order in less than 3 minutes according to the manufacturer.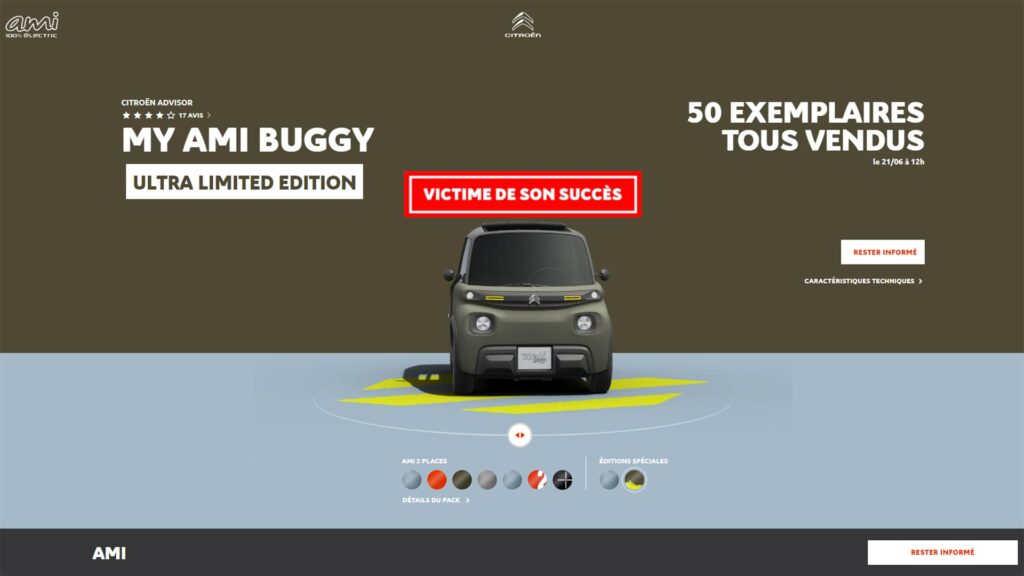 If this may seem normal for a high-tech object like a smartphone, it is still more surprising for the purchase of a vehicle. There is only Tesla, for the reservations of its novelties, which can boast of even crazier results.
Customers, who may have fallen for Ami Buggy, will now have to wait until mid-August to receive their order. Let's hope for them that this time Citroën will respect the deadlines, because the first Amis had been desired. It would be a shame for customers not to be able to take advantage of it this summer.